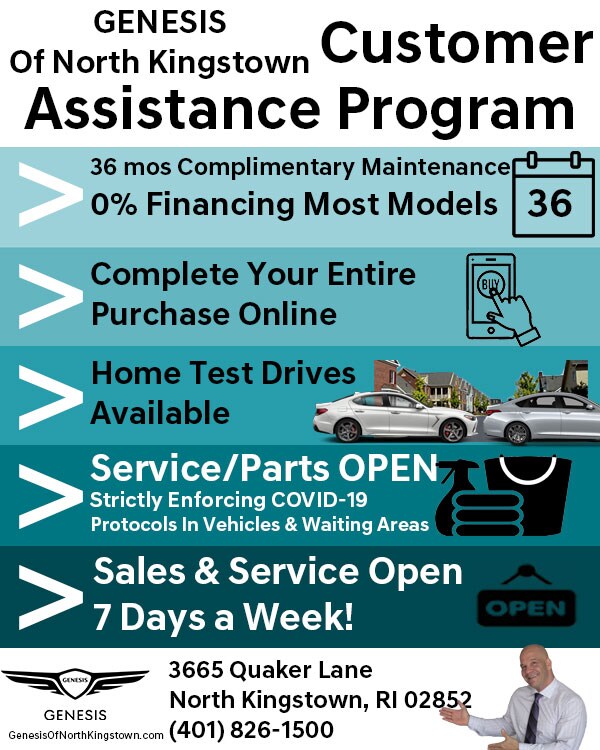 Genesis Of North Kingstown is doing our part to keep our customers, our employees, and our community safe by limiting unnecessary social interaction and closely following the Centers for Disease Control's (CDC) guidelines and recommendations on the steps we can take to prevent the spread of this virus. We're also reminding you that you can in fact buy a vehicle 100% online with Genesis Of North Kingstown! This way, you can keep your face-to-face interactions to a bare minimum without missing out on that new car you wanted. We can appraise your car and walk you through your purchase options without having to step inside our dealership. And to sweeten the deal, we'll deliver your vehicle and paperwork directly to you!
Genesis Motor America is offering to make up to 6 months of payments for clients who've recently purchased or leased a new vehicle and lost their job. If you purchased or leased a new Genesis vehicle between March 14-May 17, 2020, have financed through Genesis Finance, and subsequently experienced a job loss caused by COVID-19 anytime this year, Genesis will make your payments for up to six months.
If you're worried about a test drive, we have good news for you. If you're nearby our North Kingstown dealership, we will deliver the vehicle to you for a local at-home test drive. All you have to do is give us a call or contact us online.